Prototype to full-scale production of woven tapes, webbing, orthopedic, prosthetic and dental biotextiles.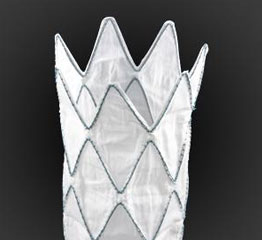 Bally Ribbon Mills has developed a broad product line of biomedical textiles and fabrics. Bally's woven tapes and webbing for use in medical and orthopedic/prosthetic applications include:
Biomedical webbing and braided carbon/graphite substrates for composite materials used in the manufacture of prosthetic devices
Implantable ligature tape
Tissue culture scrims
Woven seamless tubular materials for stent and bifurcated grafts used for aortic repair and as endo-luminal devices
Fabrics to repair Aseptal Defects (ASD's)
Dental prosthetic materials
Monofilament materials used in blood filtration, aspirating devices, and in bone marrow transplants
We are routinely asked by major pharmaceutical, dental, and medical device manufacturers to help with medical device development, in part because we have the capability to go from prototype manufacture into full-scale production. To support this technical field, we are willing to offer the services of our medical textiles engineers, prototype weavers, and braiders on a confidential basis in order to protect your intellectual property.
Our medical items are manufactured in a certified clean room to ensure cleanliness and rigorous quality standards. We also maintain ISO 13485 certification.
For more information contact Bally Ribbon Mills Medical or R&D Department.
---
BRM also supports medical products in the Chinese market. For more infomation use the contact info below.
东易中美科技(北京)有限公司
Do-Easy Sino-Am Technology Co., Ltd.
Room 307, Haiyuan Hotel
21 Yimuyuan, Xiyuan, Haidian District
Beijing 100091, China
Ms. Anna Huang
Tel: +86 10 8248 4898
Cell: +86 18642030731
Email:
hhuang@stentchina.com