3-D woven materials for space flight applications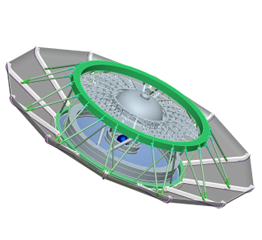 In 2012, BRM was awarded an SBIR Phase III contract by NASA Ames Research Center to develop 3-D woven materials for space flight applications; this contract builds on the company's previous SBIR efforts to optimize the multidirectional weaving of fibers.
Since then, Bally Ribbon Mills has continued to work with NASA to further develop new woven composite materials. They comprise an advanced space technology that marks a major milestone toward development of the space systems that will enable extending human and robotic presence throughout the solar system. As a manufacturer of high-performance multidimensional (3-D) woven materials, BRM is weaving the multifunctional thermal protection system padding used to insulate and protect NASA's Orion spacecraft. Orion, which recently completed its first flight test, will carry astronauts to Mars and return them safely to Earth with the help of this technology.
BRM's work on the advanced thermal protection system for Orion is being conducted under the auspices of NASA's Space Technology Mission Directorate in Washington. The work is managed by the agency's Ames Research Center in Moffett Field, California. The directorate continues to seek industry and university partnerships to assure the agency has the capabilities it needs, while helping America maintain its leadership in the technology-driven global economy.